BEECHWORTH BOOKSHOP SUPPORTS LOCAL NOVELIST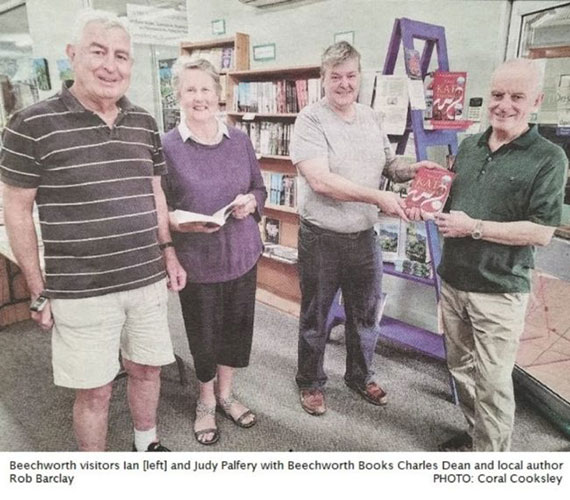 CREATING more choices for local book lovers at a Beechworth Bookshop has been at the heart of building upon existing good quality publications by Beechworth Books.
With books for every audience and a love for sharing knowledge and a passion for reading with customers, in less than 12 months new owners Charles Dean and Nadia David have increased the stock of publications by more than a third including many new releases as well.
Across categories from fiction to non-fiction, children's, autobiographies, classics, food, gardening, health, photography to travel and everything in between, Charles said the plan had been to make the Beechworth Bookshop comparable to other stores in larger regional centres.
"We also have books on Beechworth and Stanley history, including publications by the Stanley Athenaeum," he said. "We love to support local authors as well with their books and provide a very welcoming space where we can help them market and sell their books. Encouraging local authors is great for the community."
Among several local authors with books in the store is Margaret Hickey with a new soon-to-be-released one in early July called 'Stone Town,' Wendy McKay-Taylor, Callum Clegg, Frank Prem, Megan Blandford and Joy Phillips. Some others include M A Hughes, Geoff Brown, Michel Metzger and Rob Barclay.
Rob Barclay's first book in a fictional trilogy series, The Diary of Katy Yehonala, published in November last year, has been nominated for this year's prestigious Miles Franklin Literary Award as well as recently being nominated for the 2022 Prime Ministers Literary Award.
An Australian multicultural novel with a touch of romance, tells the tale of three strong and resilient Chinese women following the lives of the story's hero Katy Yehonala born to a traditional Chinese mother in the Cultural Revolution, and her daughter Clara.
Mr Barclay said there are stories in China where he lived for some years that he wanted to tell and the novel is a love story that encompasses the love of family, family values and romance.
"Writers need encouragement and to have a book that has been nominated for both awards is hugely motivating," he said.
Recent visitors to the Beechworth Bookshop from Melbourne, Judy and Ian Palfery, had the chance to meet Mr Barclay at where the couple bought a signed copy of his book. The store is also running a competition to celebrate Peter Rabbit's 120th birthday with a soft furry prize of the fictional animal character.
"It's free entry for every $30 spent on children's books," Charles said.
END
Robert Barclay Author

Robert Barclay is an Australian author of some of the best Australian crime fiction books. His new Australian multicultural novel follows the lives of Katy Yehonala and her daughter, Clara, his strong female protagonists as they confront the evils of society.
Read a PREVIEW Here
Read BOOK REVIEWS Here
NOW AVAILABLE from Shawline Publishing Here